Welcome to Emirates! Today is Tuesday, January 18, 2022
Local time is: 16:38
Our news: the number of images in Super-Tour.com's photobank has exceeded 5000. All of them available for purchase. All UAE photos have a resolution of 2240 x 1680 pixels.
Super-Tour.com
– UAE photo gallery, information for travellers & tourists, about tourism, travel, adventure, recreation and entertaiment in the United Arab Emirates! Welcome to the pearl of the Arabian Gulf! Have a nice virtual super tour!
Emirates pic of the day: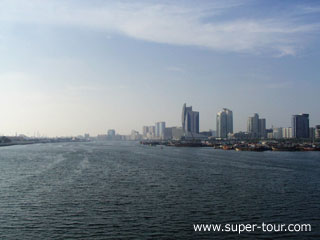 The United Arab Emirates (UAE) is situated along the south-eastern tip of the Arabian peninsula between 22° 50 and 26° north latitude and between 51° and 56° 25 east longitude. Qatar lies to the north-west, Saudi Arabia to the west, south and south-east and Oman to the south-east and north-east. Occupying a total area of about 83, 600 sq. km (32,400 sq. miles) - roughly the size of Portugal - the UAE has 700 km of coastline, 600 km along the Arabian Gulf and 100 km bordering the Gulf of Oman.
UAE Calendar:
exhibitions, events, sales and promotions.
INDEX Exhibition Nov 07 2006 - Nov 11 2006
GITEX Exhibition Nov 18 2006 - Nov 22 2006
Gitex Shopper & Consumer Electronics Show Nov 18 2006 - Nov 24 2006
Middle East Exclusive Exhibition Nov 27 2006 - Nov 29 2006
Sportex & Gulf Stadia Middle East Exhibition Nov 27 2006 - Nov 29 2006
Ideal Home Exhibition Nov 30 2006 - Dec 03 2006
Cityscape Exhibition Dec 04 2006 - Dec 06 2006
Seatrade Exhibition & Conference Dec 04 2006 - Dec 06 2006
Dubai Helicopter Show Dec 05 2006 - Dec 07 2006
Al Fares Exhibition Dec 11 2006 - Dec 13 2006
Watch & Jewellery Dubai Exhibition Dec 12 2006 - Dec 16 2006
Offshore Arabia - Regional Conference and Exhibition Dec 17 2006 - Dec 19 2006
International Autumn Trade Fair Dec 17 2006 - Dec 20 2006